Indian HRD ministry launched www.bharatvani.in website, which is very useful for people searching meanings in different Indian languages, a one stop dictionary/guide for all Indian languages. Kudos to HRD ministry for this initiative.
Bhratvani is a project, which aims to make knowledge available in all languages of India and that too on a portal (website) using multimedia (text, audio, visual and images). This portal is inclusive, interactive and dynamic. Objective of Bharatvani is to make India a "free knowledge" society in this era of digital India.
This website will provide you these services in all Indian languages:
Textbooks: A single platform to cater to the needs of students from all Indian states.
Jnanakosha: An all-in-section for Encyclopedic knowledge resources in Indian Languages.
Bhashakosh: Learn a language or know about the language.
Shabdakosh: Experience the luxury of searching dictionaries in Indian Languages.
In Bharatvani website you will get different tabs which will help you to get service which you want i.e. What is new?, Bhashakosha, Textbooks etc…Let see them one by one with images.
All Languages tab: Here you select Indian language in which you are searching materials like books etc.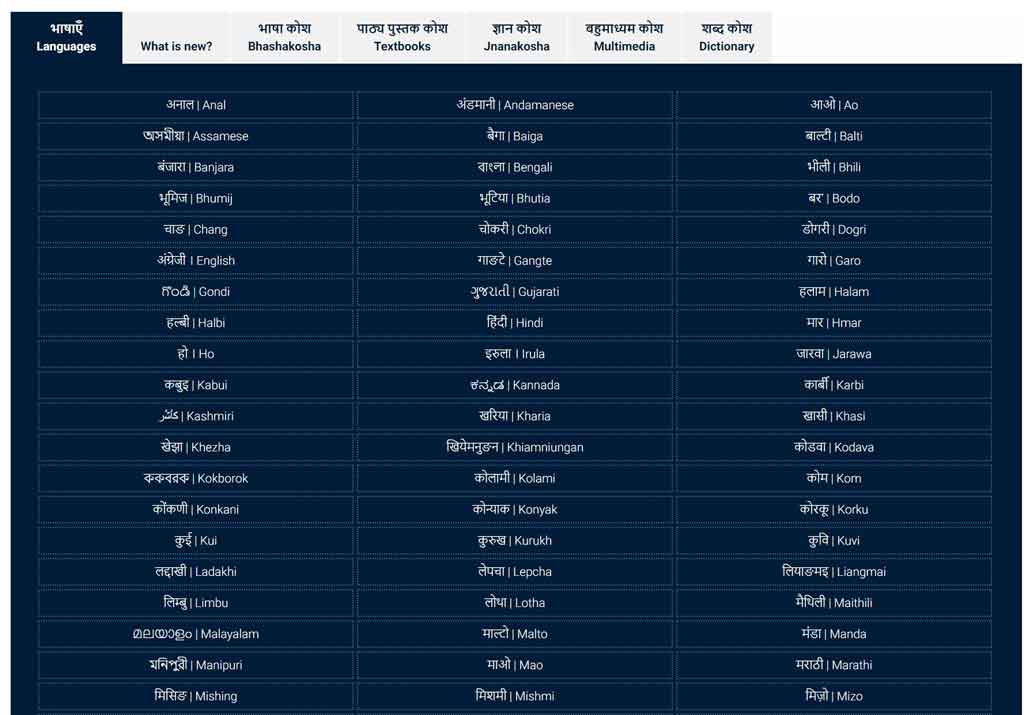 What is new? tab: Here you will find all latest uploaded books and articles in different Indian languages. For example, just click on first link i.e. Bhartiya Darshan and after accepting its terms and condition you can download it or read it in browser directly.
Bhashakosha tab: Here you can select books in your selected Indian language. With the help of search box one can directly find out his/her choice.
Textbooks tab: Here you will find text books in selected Indian languages.
Jnanakosha tab: Here you find Encyclopedic knowledge resources about language in which you are searching resources.
Multimedia tab: In this section one can find multimedia resources available for particular Indian language i.e. text, audio, video etc.
Dictionary tab: It provides complete meaning of word from any selected Indian language.
During my research on Bharatvani I found out problem with speed/response time of this website, response time of each tab/website is little slow. Suggest technical people to look into it and make it little faster, just a request.
Few key points are:
This website is the largest online storage of dictionaries available in India
This website has 22 Indian scheduled languages. The count will increase till 100 in future.
This portal can be used as cross-lingual learning tool. It allows transliteration and contain multilingual grammar books and courses.
This project is implemented by Center Institute of Indian Languages (CIIL), Mysuru.
Their are over 130 dictionaries, glossaries and terminology books on the site.
Contents are copyright protected and available in text and PDF formats.
Bharatvani is available as a mobile app on Android Play Store.
For people in language/communication field, I would suggest to just check this website and explore more by your own and give me comments in comment section of this article.
References:
https://bharatavani.in/