Project overview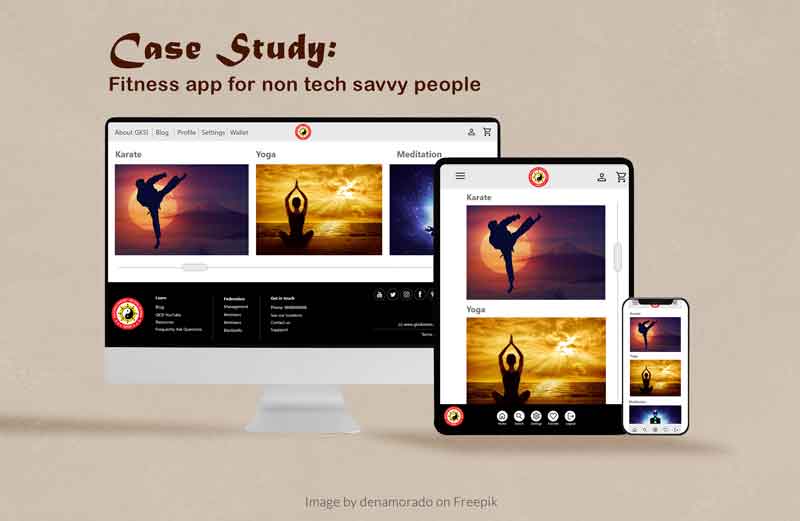 The product:
GKSI fitness is a online fitness class in India. This fitness studio provides four kind of fitness activities like Karate, Yoga, Meditation, Zumba. This product is created for the users who are new to technology. Easy to use and simple structure. GKSI targets customers like old people, homemakers, students, working people who are new to technology but interested in fitness.
The problem:
Older people and homemakers who are new to technology want to follow fitness regime at their ease. Karate or other fitness activities even when they are at different location and with uncomplicated design.
The goal:
Design an app for GKSI fitness that allows users to easily select fitness activity with uncomplicated design.
My role:
UX designer designing an app for GKSI fitness from conception to delivery.
Responsibilities:
Conducting interviews, paper and digital wireframing, low and high-fidelity prototyping, conducting usability studies, accounting for accessibility, and iterating on designs.
Understanding the users
User research: Summary
I conducted interviews and created empathy maps to understand the users I'm
designing for and their needs. A primary user group identified through research
were older people who are new to technology and not very well versed in technology, but they are interested in online fitness activities with ease even when they are at different location due to their commitments.
Persona 01: Ram
Problem statement:
Ram is an old man who is new to technology but needs easy access to online fitness class, training time and fees payment info with facility to download fees receipts and attend different activities as per choice.
Persona 02: Suruchi
Problem statement:
Suruchi is a homemaker who is interested in fitness activity without going anywhere out. But she is not very tech savvy so want an app which is simple to use and help her with her fitness activity without complexity.
Competitive audit
An audit of a few competitor's products provided direction on gaps and opportunities to address with the GKSI fitness app.
Ideation
Did a quick ideation exercise to produce ideas for how to address gaps identified in the competitive audit. My focus was specifically on booking fitness activity and payment features.
Starting the design
Digital wireframes
After ideating and drafting some paper wireframes, I created the initial designs for the Fitness coaching app. These designs focused on delivering personalized guidance to users to help manage their fitness goals.
Low-fidelity prototype
Using the completed set of digital wireframes, I created a low-fidelity prototype. The primary user flow I connected was scheduling a fitness class, so the prototype could be used in a usability study.
Usability study: parameters
Study type: Unmoderated usability study
Location: Mumbai, remote
Participants: Seven participants
Length: 30-60 minutes
Usability study: findings
I conducted two rounds of usability studies. Findings from the first study helped guide the designs from wireframes to mockups. The second study used a high-fidelity prototype and revealed what aspects of the mockups needed refining.
Refining the design
Mockups
Early designs allowed for some customization, but after the usability studies, I added additional options of SUMMARY before final Payment. I also revised the design, so users see all the options on first screen when they first land on the screen.
The second usability study revealed frustration with waiting in payment option while scheduling fitness class booking. I add GKSI wallet option just below the UPI payment option. In later designs added complete transaction and welcome message screen option as well to the screen.
High-fidelity prototype
The final high-fidelity prototype presented cleaner user flows for scheduling a class and pay fees. It also meets user needs for easy and quick booking of class.
Accessibility considerations
Clear labels for interactive elements that can be read by screen readers.
Initial focus of the home screen on simplicity and ease of selection help define the primary task or action for the user.
Responsive Design
Sitemap
With the app designs completed, I started work on designing the responsive website. I used the GKSI fitness sitemap to guide the organizational structure of each screen's design to ensure a cohesive and consistent experience across devices.
Responsive designs
The designs for screen size variation included mobile, tablet and desktop. I optimized the designs to fit specific user needs of each device and screen size.
Takeaways
Impact:
The app makes users feel like GKSI fitness really thinks about providing various fitness activities with one app.
One quote from peer feedback:
"The app made it so easy to schedule my online Yoga class. I would definitely use this app as it helps me to plan my class timings and it very simple, no complication."
Learnings:
While designing the GKSI fitness app, I learned that the first ideas for the app are only the beginning of the process. Usability studies and peer feedback influenced each iteration of the app's designs.
Next steps
Conduct research on how successful the app is in reaching the goal to improve health of non tech savvy people.
Add more educational resources for users to learn about fitness.
Adding Healthy food recipes section.
Provide incentives and rewards to users for successfully attending one week of online class.
Contact me:
Thank you for your time reviewing my work on the GKSI fitness app! If you'd like to
see more or get in touch, my contact information is provided below.
Email: suvratk@suvratkotia.com
Website: www.suvratkotia.com
Resume: Suvrat Kotia resume