If you are thinking to buy FASTag sticker, this article is for you. This is new initiative by National Highway Authority of India, an electronic tool payment system. FASTag – Digital payment on tolls and this make your travel much faster and convenient.
It's available in market by some providers like Paytm, Sate Bank of India (SBI), HDFC Bank, ICICI Bank and many more. Here I am going to tell you about the Paytm FASTag and how to get it and use it.
Paytm FASTag procedure is much easy as compare to other banks. Just need to upload RC front and back image and done. They delivered it to your doorstep.
Selection:
I have selected Paytm FASTag as I am using Paytm for food coupons etc. Another reason during Covid-19 pandemic they will deliverer it to your door step. On the other hand other banks are not doing same and asking for much paper work.
Procedure for booking:
Just open Paytm app, on top sliding menu….swipe it two times and you will see "FASTag" option.
Just click icon of "FASTag"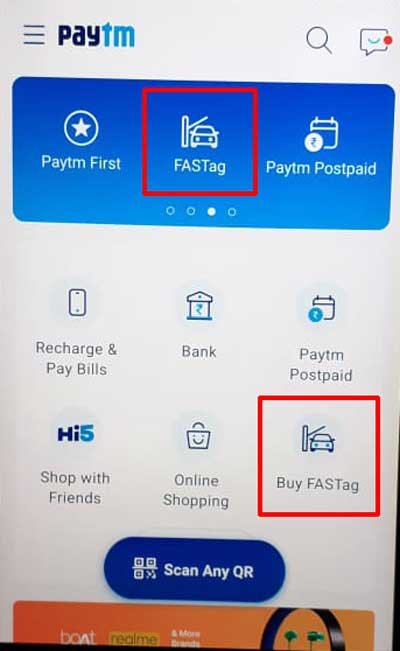 It will open up FastTag section. Here you can see two sections i.e. "Buy FASTag for Car/Jeep/Van" and other is "Get Commercial FASTag". You can ready lot's of this in this section regarding FASTag.
As I am buying it for car, I had opted for "Buy FASTag for Car/Jeep/Van"
Now inside "Buy FASTag for Car/Jeep/Van" you need to fill "Vehicle Registration Number" and upload Front and Back photo of RC (You can use mobile camera for this).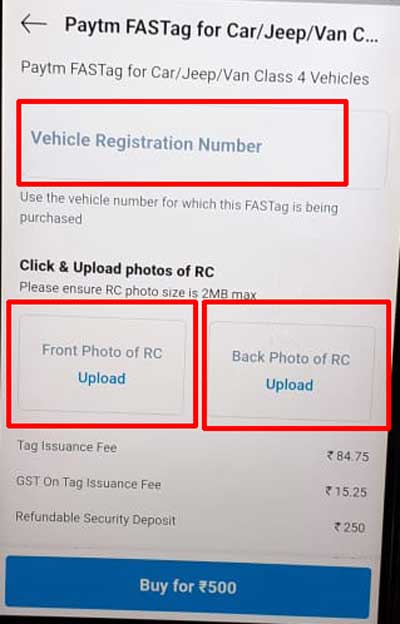 Paytm FASTag is expensive than other provider as it will cost you Rs. 500 (Rs 250/- refundable deposit).
Just Buy this FASTag after completing/uploading RC copies etc.
I got my Fast tag within 3 days at my door step. Pretty quick 🙂
When received the FASTag fro Paytm, in includes : FASTag sticker, Booklet and a Form.
Next process is pasting this FASTag on your car.
Procedure of pasting:
FASTag should be pasted on the windshield of your car, just in the center and behind the view mirror (Internal) of your car.
Clean the area first, check the position of sticker. Paste it from inside.
Remove cover from sticker and paste it from inside. Make sure "FASTag" written with silver face out side. Paytm, NPCI etc should be on back.
Make sure no bubble will be left-out while pasting.
Another difficulty with me is that in my car I already have previous toll sticker (MEP sticker of city tolls in Mumbai) was pasted in the center. Due to this I have to paste it near to that sticker towards left side.
Procedure of activating:
Now when you get this sticker from Paytm, it automatic transfer Rs.150/- into FASTag wallet and activate it. You just need to refill it as per your usage and IT'S READY TO GO….HAPPY JOURNEY…
Let's check your FASTag status from "FASTag -> "Manage Paytm FASTag" section. It will show your vehicle number and status of your FASTag as "Active".
Those you don't want to read this steps by step guide i.e. FASTtag – Digital payment on tolls, can check available video below on our channel. Request you to subscribe our website www.suvratkotia.com and our YouTube channel "Precious Rainbow".
FAST TAG process video:
#preciousrainbow #paytmfastag #paytm #how-to-buy-fastag-online #FASTag