Here is a content which you can use to give presentation on social media. You can use this content to create your PowerPoint presentation, I will be happy to help you.
What is social media:
It is defined as interactive platform where content is created, distributed, and shared by organizations, individuals on the internet for knowledge sharing.
The purpose of social media:
Social media provide users with rich experience, dynamic content, scalability, openness, and collective intelligence.
Difference between Social media and Mass media:
Mass Media:
New papers, Television, Radio etc. comes under mass media
Designed to reach large audiences
Made to inform audiences
Only one-way communication
Social Media:
LinkedIn, Facebook, Twitter, and Instagram etc. are examples of social media
Designed to reach large audiences
Social media give information to audiences
Social media reaches users in a shorter amount of time
It is two-way communication and provides opportunities to users to give quick feedback's
What do Individual and Organization do with Social Media?
Individual:
Shares views/info he/she likes
Shares professional or personal related info
Give his/her views on topics/issues
Use social media to share, gain knowledge with others with any business goals
Organization:
Shares only own business or product related knowledge
Strictly professional sharing
Use social media to fulfill their business goal of increasing business sales
Provides news about new product, service, or features launch
Complete team will handle social media activity and analyse the effectiveness of presentation
KindS of social media:
LinkedIn
Twitter
Instagram
Facebook
LinkedIn: Professional platform
Professional networking and employment-oriented online service that operates via website and mobile apps.
Linkedin was launched on May 5, 2003 and from December 2016 it has been a wholly owned subsidiary of Microsoft.
Founder: Reid Hoffman, Allen Blue, Konstantin Guericke, Eric Ly, Jean-Luc Vaillant
CEO: Ryan Roslansky (In year 2020)
Jeff Weiner (Executive Chairman)
Users: 690+ million registered members in 150 countries in May 2020
Revenue: US $6.8 billion worth of revenue (2019)
Twitter: Microblog platform
Twitter use for broadcasting daily short messages
Initially you could tweet up to 140 characters long, which was doubled in November 2017 to 280 characters
Twitter was created by Jack Dorsey in 2006 and it has become very popular worldwide.
Founder: Jack Dorsey, Evan Williams, Noah Glass, Biz Stone
Users: 330+ million users
Revenue: US $3.46 billion (2019)
Instagram: Micro-blog platform
Instagram is a photo and video sharing social media service which is owned by Facebook Inc.
Insta was created by Kevin Systrom and Mike Krieger and launched in 6th October 2010 on iOS.
Owner: Facebook
Developed by Facebook, Kevin Systrom, Mike Krieger
Users: 26.9+ million users (Year 2020)
Revenue: US $14 billion (2019)
Facebook: Social Media platform
Facebook, Inc. is USA social media conglomerate corporation based in Menlo Park, California.
Founded: February 2004, Cambridge, Massachusetts, United States
Founder: Mark Zuckerberg, Andrew McCollum, Eduardo Saverin, Dustin Moskovitz, Chris Hughes
Users: 2.6 billion monthly active users
Revenue: US $ 70.7 Billion (2019)
Professional brand building
LinkedIn: Professional brand building on LinkedIn
Profile picture
Use clear, friendly, and front face picture
Define yourself:
What goal do I want to achieve?
Who is your target audience?
Create strong headline, do not rely on the job title, don't use company name. Describe yourself in 3-5 words (Do not use buzz words)
List compliment which you are proud of.
Banner picture
Select banner picture which define your personality
You can select pictures from any free stock images sites like Pixabay, Pexels, Freelinkedinbackground, unsplash etc.
Introduction
Write about your experience and domain
Education qualification (If want to highlight)
Details about your expertise
Specialties/Technologies should be included
Always use disclaimer in all social media platform."Disclaimer-The postings on this site are my own and don't necessarily represent the views or objectives of any Company."
Highlight past positions with a formula of 3X3 short description. Three para with three sentences per para.
Reference profile: Jeff Weiner (CEO at LinkedIn)
Content sharing
Share rich contents like video, animation, white papers, blog articles
Always be helping to others
Use maximum of three hashtag with your articles
Check for relevant hashtags beforehand
Additional platform
Be consistent on other platforms like LinkedIn, Twitter, Facebook, Instagram with your profile picture, name
Most importantly, with advent of any new social media platform book your username at earliest and be consistent with your username or URLs
Twitter: Professional brand building on Twitter
Use proper and consistent name
Most importantly be active daily, Tweet more
Interact with other users. Retweet, Replies, Likes
Share relevant content
Use clean, interesting profile picture
Interesting banner image which represents your personality
It's a mobile and desktop base app
Twitter is fast, real time, good place for news. If you are using hashtags limits it at four
Instagram: Professional brand building on Instagram
Use proper and consistent name
More contents: Images/Video
No active URLs facility available in Instagram, for this you need to enroll for paid services
It is only mobile based version.
You can not edit/upload images/video on desktop version or in browser. Only on mobile you can upload and edit images.
You can share small video with different features of your mobile camera. For longer video there is different process
Interact with other users. Re-share/Replies/Likes
Relevant content sharing
Use clean, interesting profile picture
Facebook: Professional brand building on Facebook
Proper name or consistent username
Small Introduction
Use more contents. Include all kind of contents like professional, personal etc. Use relevant content
Interact with other users. Like/Replies/Share/Wish
Don't reveal too much personal details. For personal stuff create personal groups
Professional posts should be public, personal could be restricted.
Posting frequency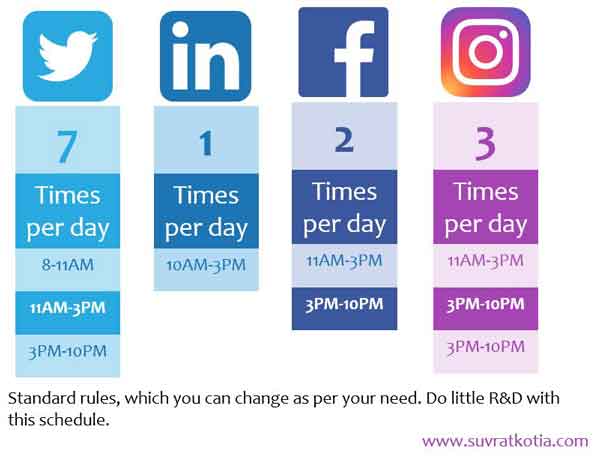 Frequency for different platforms like early morning, lunch time, late in the afternoon and late in night. Depends on who you are trying to reach. "test and learn" try different times, see which works best. (number of likes, shares, comments can show you the effectiveness).
Use relevant hashtags(#) in shared content on social media. This will directly connect with users and give your post more highlight. With the help of @ you can directly communicate a persona or organization with your post. Complete presentation for social media is on suvratkotia
References:
Wikipedia
Internet research
#socialmedia #linkedin #twitter #instagram #facebook #research #communication #socialmediamarketing