Friends, thanks for your encouraging comments on my articles. Some ask that why I am not updating my blog regularly, one reason for not writing on regular basis is due to less time availability. Due to recession and heavy work pressure, I do not have much time to write research articles. I don't want to write those news items which you easily gets on every website, I try to write article after doing complete research on the subject.
Wait for my next article which will most probably on interactive 3D model. I am doing research on the same, and already made a really cool interactive 3D model. So just wait for my new article.
Here we talk about software (plug-ins) which helps to convert 3D animation into vector animation (i.e. Flash SWF). Isn't it sound interesting?
Electricrain, a company made a software plug-ins for LightWave 3D and 3ds Max  i.e.  'Swift 3D LW' ; and  'Swift 3D MAX'. With the help of these plug-ins, users of 3ds Max and LightWave 3D can render their 3D scenes in high-quality, low bandwidth vector or raster Flash animations.
These plug-in are powered by industry-leading RAViX 4 vector rendering technology. Swift 3D plug-ins gives superior Flash integration and additional export formats including Adobe Illustrator, EPS, SVG and Toon Boom's PNT format.
It is simple to use plug-in. You just need to install it (according to the installation manual), and it appears into your software as shown in below Figure.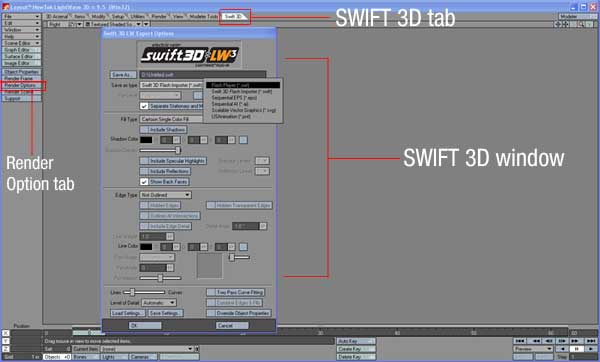 You just select your output format i.e. swf, eps, ai etc. in the SWIFT 3D window and render it, you will get the desire output in vector format. WOW…quite easy and very useful. I have use lots of SWF files in my project and it is quite easy to show a 3D model/animation made in LightWave3D in Flash with full control. You just need to import the SWF (3D animation) file into your Flash project and your 3D animation would work perfectly in Flash without consuming much memory. Same thing happens with 3ds Max.
Just download a trial and enjoy it!
For more information, please check the link: erain dot com/products/plug-ins/
Reference/Image (First Image) courtesy: erain dot com