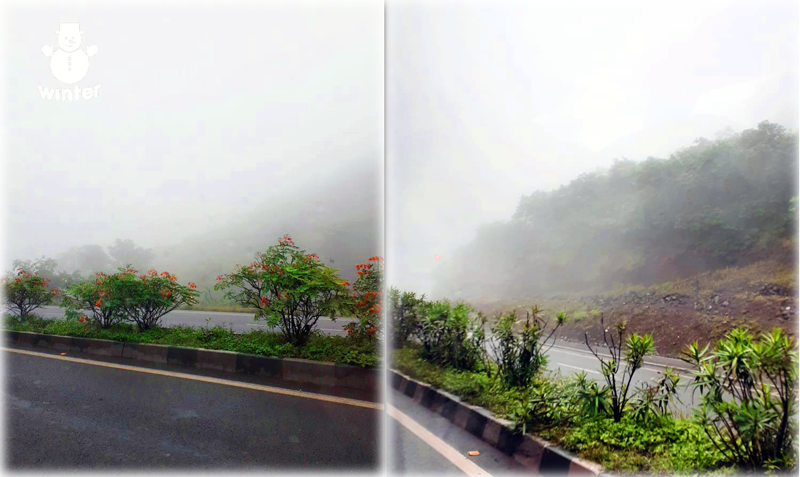 During Diwali vacation we went to Indore(M.P.) from Thane(Maha.), a 550kms journey in my car (WagonR). Just want to share my experience during this tour. Journey of about 550kms from Thane to Indore is just awesome and drive is smooth as this route is straight with no turns or hurdles.
Plan your journey in advance with few tips –
Check distance between start and end station.
Properly check your car, and take mechanic's help if needed.
Fill tank with Petrol/Diesel/CNG. In my car Petrol + CNG, so I did full tank of Petrol and CNG. My car mileage on full CNG tank is 150+ Kms. As  I checked online and found later that no CNG stations were available on the route towards Indore.
CNG rate in Mumbai was Rs. 49.5/kg which went to Rs. 69/kg in Indore(M.P.)
Take few items like: Car cover, cleaning items, duster, hammer, car mobile charger, car tyre inflator, ropes, medical kit etc.
Now you can start  with your journey. Till Nashik city, road was little bad with heavy traffic and ongoing flyover work, as I was travelling during festival so we moved slow. After Nashik it was a  smooth ride. I  prefer to go on 80kmph speed as per my car make. On this route you have to shell out approx. Rs. 730/- for toll charges.
Toll details are as follows from Thane to Indore (Rates are subject to change (Oct 2019)
Arjunali Toll Plaza: Rs. 110/-(approx.)
Pimpalgaon Toll Plaza: Rs. 140/-(approx.)
ChandwadToll Plaza: Rs. 135/-(approx.)
Songir Toll Plaza: Rs. 65/-(approx.)
Shirpur Toll Plaza: Rs. 100/-(approx.)
Khalghat Toll Plaza: Rs. 95/-(approx.)
Dhule Palesner Toll Plaza: Rs. 55/-(approx.)
Sonway Toll Plaza: Rs. 30/-(approx.)
We just enjoyed the scenery during this journey, clear and nice road after Nashik till Indore. Flyover work was going on till Nashik and Dhule which further reduced my travel time between Thane to Indore.
Journey took 12+ hrs to reach Indore as I preferred speed of  80-90kmps. Felt that long drive is a kind of stress buster. Lots of Hotels and restaurants are hanging on the way so don't worry about food. We took morning breakfast break at Shahpur before Nashik, Lunch break after Dhule, and evening break after Sendhawa.
I was much concerned about all the things before moving but after this journey I would love to do it again.  My suggestion, don't worry just go for it with your family. Near Indore lots of tourist destinations are there like Indore, Ujjain, Patalpani, Omkareshwar, Maheshawar, Mandu and many more. Just go for this trip to the cleanest city in India 4th time in a row i.e. Indore. You will never forget the taste of food in Indore or you can say MALWA with lovely culture….
Check link: http://www.mptourism.com/